Social Media
3 Ways to Share Son of God Now
Share Via Facebook
Visit www.facebook.com/SonOfGodMovie and 'Like' the page.
From here you can share the Son of God Facebook page by clicking on the

in the Message bar.

From the dropdown, choose 'Share'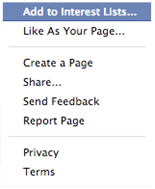 Enter 'Amazing Trailer for an Amazing Film!' where it says 'Write Something.' Click 'Share Page.'
OR
Click on
at the top of ShareSonofGod.com.
The image below will appear: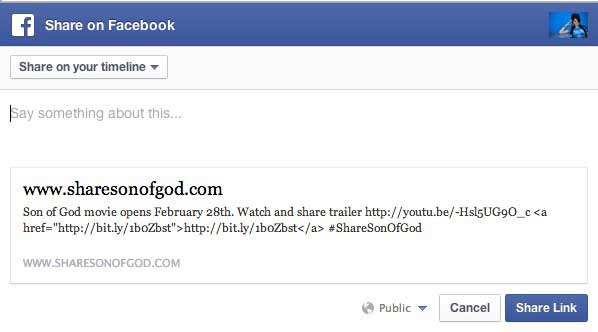 Where it says 'Say something about this. . . ', simply type a message such as 'Amazing trailer for an Amazing Film. '
Click the 'Share Link' button.
Share Via Twitter
Be sure to Follow @SonofGodMovie on Twitter to receive up-to-date information on the release of this life-changing film.
Click on
The image below will appear:

A message will auto fill. You can use this message or create one of your own. Be sure to include the following link http://www.sharesonofgod.com
Click the 'Tweet' button.
Share Via Email
Share the life-changing story of the Son of God Movie by sending your Friends and Family an Email Message.
Please enter your details below to receive an email that you can forward to everyone on your email address list.